This post may contain affiliate links. You can read my disclosure policy here.
When decorating for Christmas, I tend to focus on the main areas of the home like my living room and dining room. This year, I wanted to add some festive Christmas decor to my master bedroom as well! Saving time and money is so important so I decided to decorate for Christmas by shopping at Big Lots!
Decorate for Christmas by Shopping at Big Lots
If you've followed me for any amount of time, you know that I love farmhouse and rustic decor and I love adding that same design style when decorating for the holidays. I knew I wanted to add a wreath to my headboard. We have a large wood headboard in the master and simply by adding a wreath, it makes it feel so much like Christmas. I found the most perfect wreath for this spot at Big Lots!
Christmas Wreath
When I spotted these 3 foot prelit trees with their adorable burlap bases, I knew I had to have them. I decided to temporarily replace my bedside lamps with these trees and I love that they are the perfect size for this space! After spotting the white lanterns on the end cap, I had to have them. They have an amazing selection of holiday lanterns that have battery powered candles inside. Perfect option for this momma as it doesn't pose the fire hazard that real candles do. I love the soft glow these trees and lanterns put off in the evening. Then, I added some ribbon I had in my craft box instead of ornaments but ornaments would be just as cute and Big Lots had a great selection of them!
Huge Selection of Pre-lit Christmas Trees
I couldn't decide which lamps I loved more, the white or the rustic wood ones they had so I decided to buy a rustic lantern as well and use it on my desk in the master bedroom. The most awesome thing about these lamps is the decor added to them can also be removed at the end of the season and I am able to use them year round! I will just add the holiday pieces back to them next year when decorating for Christmas!
You can see how you can easily decorate for Christmas by shopping at Big Lots. So simply by adding a few Christmas decor items in my master bedroom, I quickly updated my master into a Winter Wonderland! Making small changes can have a huge impact on a space. I love that all these items were purchased in a single trip and I may be going back to shop again soon. They had so much amazing Holiday decor!
Have you ever decorated your master bedroom for the Holidays? What changes did you make? Would love to hear all about it! Thanks so much for stopping by!
To shop online at Big Lots for your own Holiday decor you can check them out here.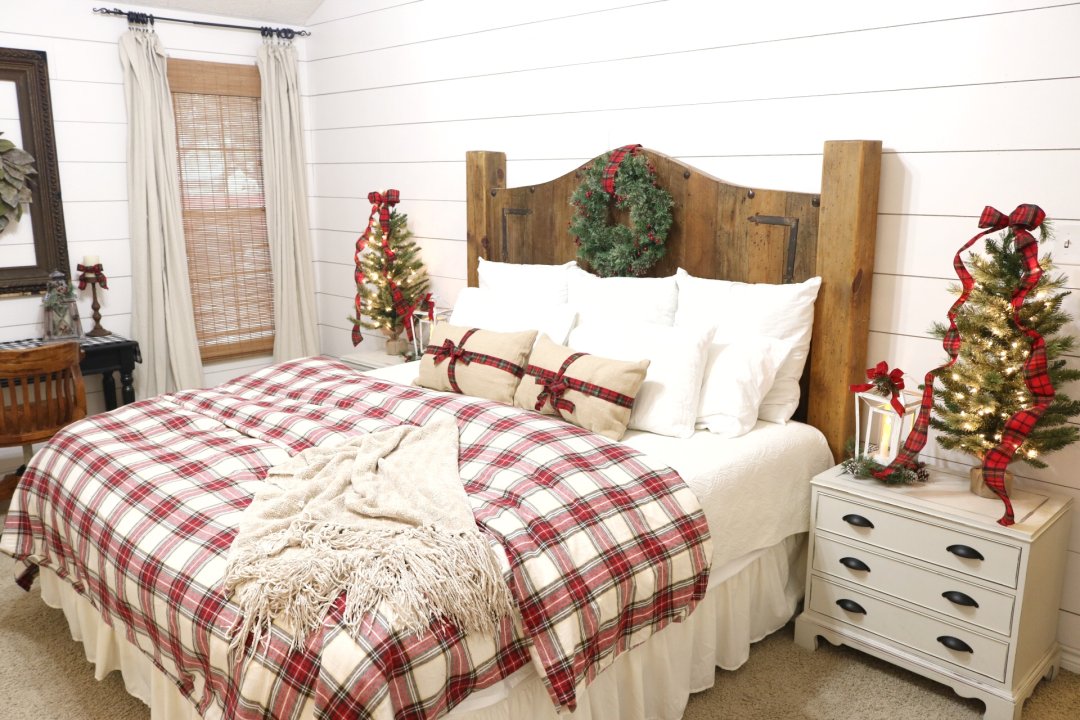 Thanks so much for stopping by the blog today and you can always find over on Facebook, Instagram or Pinterest for more ideas and inspiration!
We also recently started a Youtube Channel so we can share all about our farming adventures as well as farmhouse restoration and so much more. Would love to have you follow us there!
A recent project we completed at the new farmhouse is to update the entry way! You can read all about that here.